Posted by: hans

Post Reply
11/05/2018, 08:25:08
This small figure is collected 10 years ago on East Java. The face is hard to seen in the picture. One arm is damaged.
Lenght x height = 25,45 x 11,32 mm. Perforation is conical 2,28 - 3,64 mm.
It has the structure and colour of Indo Pacific glass and it is not of modern fabrication. The glass is folded and manipulated with a pointed tool. In the same batch were small glass elephants (piu type), snakes and a damaged bird, all in colors seen also by Indo Pacific beads.
Are these kind of objects already documented? In SE Asia for instance?
Love to hear more on the subject.
PB050009.jpeg
185.9 KB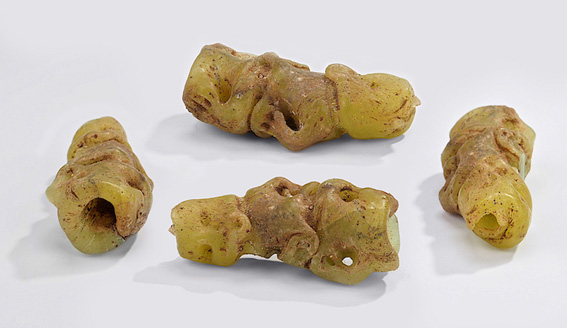 © Copyright 2018
All rights reserved by Bead Collector Network and its users
Followups