Posted by: lopacki

Post Reply
12/06/2013, 11:22:38
© Copyright 2020
All rights reserved by Bead Collector Network and its users
Posted by: frank

Post Reply
12/06/2013, 19:08:17
Beads historically reflected hierarchies in many cultures. Mandela was not very enamored with some hierarchies and is probably at the forefront of a new long term trend of democratization , politically and economically in the world..
If we are going to look at hierarchies in a different manner how are beads going to fit in ? I consider the Chinese bead production to be largely dead. Technically they are wonderful but the beads seem meaningless , totally divorced from any culture other than a commercial culture. I love old beads as well but they are in a way foreign , a hand reaching from the past that we cannot quite grasp culturally.
What I am wondering is : Can we make new bead styles that have cultural as well as aesthetic significance ? I would love to see a universally desired bead type named after Mandela. It would prove to me that we still care about beads as a living tradition that includes a new vision on the meaning of contemporary beads . Paradigm shifts only occur in living , vibrant cultural realms and I hope that the living bead tradition can make that shift and become more than decoration again.
© Copyright 2020
All rights reserved by Bead Collector Network and its users
Posted by: jake@nomaddesign

Post Reply
12/06/2013, 19:29:56



Modified by jake@nomaddesign at Fri, Dec 06, 2013, 20:22:33


© Copyright 2020
All rights reserved by Bead Collector Network and its users

Posted by: paigar

Post Reply
12/07/2013, 08:24:38
I wholeheartedly disagree with the statement that "...Chinese beads are like Italian glass of the European expansion...."
To me these Chinese 'craftsmen' are doing nothing but copying established old beads for the purpose of flooding the market with fakes. There is nothing new or important about their bead making as stated in Frank's post. Yes, for the sake of argument the Italians copied the forerunners of their beads but then they took glass bead making into hundreds of different directions. Chevron beads, wedding cake beads, fancy beads, multi-murine beads, etc., etc. The Chinese beads of old had many variations and are unique to the times. This new Chinese stuff is nothing to be excited about IMHO. They are fakes and/or reproductions now and they will still be fakes in 100 years. I would think that the Chinese bead makers of old would be ashamed to be associated with what is being passed of as bead artistry now. Then again on the flip side of this argument: could this be the result of the Chinese culture being under Communist rule? Perhaps free thinking is not allowed but copying true to form is encouraged and by law all that is allowed.
As a contrast look at the Indian bead making over the years. A lot of their beads are pretty far out but they are unique to the times and to their bead making artistry. Even what is trying to be passed off as Venetian on eBay looks similar but they are not exacting replicas of Venetian beads. Just food for thought and again my own humble opinion.
© Copyright 2020
All rights reserved by Bead Collector Network and its users
Posted by: jake@nomaddesign

Post Reply
12/07/2013, 08:46:07
© Copyright 2020
All rights reserved by Bead Collector Network and its users
Posted by: Art

Post Reply
12/07/2013, 17:50:11
Frank, your position intrigues me. You consider the Chinese current bead production technically wonderful but meaningless. What gives anything meaning? I couldn't say, could you? I don't think you could prove that any beads made in a production manner were made with a meaning in mind, beyond in the mind of the maker. Historically, specific beads were made as talismans, I'm sure, but meaning?
Cultures evolve. You can not just give meaning to an object by declaring it. Naming a bead after someone or something will not give it meaning. That has to come with use and time and is a personal matter, and then I think obscurity reigns. Does great art have meaning? The Mona Lisa? The great pyramids? Meaning is a personal thing and comes from within.
Our present modern techno culture doesn't revere beads save for some folks like those here on this forum. And each of these bead lovers imparts his or her own meaning to the beads of their greatest desire. I believe that beads have always been used as decoration and primarily so.
What does wearing a beautiful bead or strand of beads mean? " Hey look! I am wearing a beautiful bead! I feel more beautiful wearing it!"
Rarity of specific bead types in specific cultures has given them value within that culture but meaning? Even the precious Dzi has value and is revered in several cultures, but what might its meaning be? And what might a universally desired bead type be? I make beads and they have great meaning to me as I am seriously invested in their conception and manufacture. Others find them lovely or ho hum depending on their own position or aesthetic values. Witness the discussions here on various glass beads vs. various stone beads, either contemporary or old.
I think that the quest for meaning in beads is just that, a quest, not a destination. And properly conducted the quest will be never ending.
just my opinion……
The bead pictured here in my post I named the "end of the world" bead because I finished it on December 12 of last year, the end date of the Maya calendar. But it doesn't mean the end of the world. It's just a bead.
All best wishes,
Art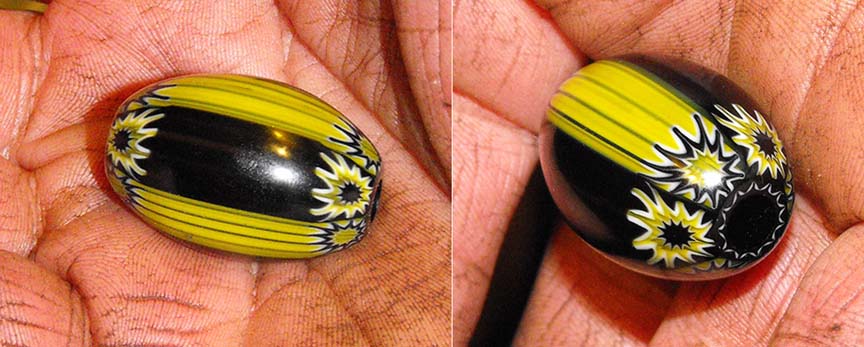 © Copyright 2020
All rights reserved by Bead Collector Network and its users
Posted by: Art

Post Reply
12/08/2013, 17:19:02

It's already been exploited massively which will no doubt will continue…

News article link


Related link: link
Modified by Admin at Sun, Dec 08, 2013, 18:50:07


© Copyright 2020
All rights reserved by Bead Collector Network and its users