Posted by: Beadman

Post Reply
03/14/2022, 10:04:32
Prior to the demise of The Bead Museum in 2011, my bead collection was willed to that institution.
Now, I am at loose ends to know what to do with my beads.
If one wants to donate a meaningful collection to a worthy museum, it should also come to them with a sizable amount of money—that will pay for its conservation over time, into the future.
And, the truth is, the museum can choose to sell-off any part of your collection, by deaccessioning it.
There is no easy answer to this issue of "what to do."
Jamey
Copyright 2022
All rights reserved by Bead Collector Network and its users
Posted by: Art

Post Reply
03/18/2022, 09:02:33
Like many others I thought giving things to a museum was a permanent condition for the objects given. I gave many beads to the Bead Museum in Arizona over the years. Many of the beads I gave them were unique and better than the ones I retained in my own collection. The Bead Museum was a first rate serious dedicated museum but in the end it was unable to sustain its existence for a host of reasons and its collection was broken up and in some regards cast to the winds. The beads I gave to that museum to preserve forever for the public are now distributed to unknown places, many I suspect in private hands at bargain basement prices. I gave some of my best work to that museum and now it is lost. I won't deny that this has given me no small amount of regret.
Jamey is right about museums having no obligation to retain gifts even after they formally access them. So my feelings are these. If you really CARE about the beads you are considering donating do NOT donate them under any circumstances as they then can get sold, given away or who knows what. Museums routinely have loan agreements available and you can loan your beads or your entire collection to a museum on condition that if they wish or need to dispose of them they must be returned to you or your heirs. Think about museums you have visited and have seen paintings or sculpture etc listed as on loan from..... This method protects your investment in the piece itself, in the integrity of your collection , your energy and time and effort to amass work based on your passion and study. The museum gets to have and display the work for a specified or unspecified time but on dissolution of the organization or decision to no longer retain the work, the work must be returned to the donor. If you don't care if the work gets broken up or sold or given away, then donate it and don't look back. But if the work is important to you LOAN IT, and do so under a written agreement of return.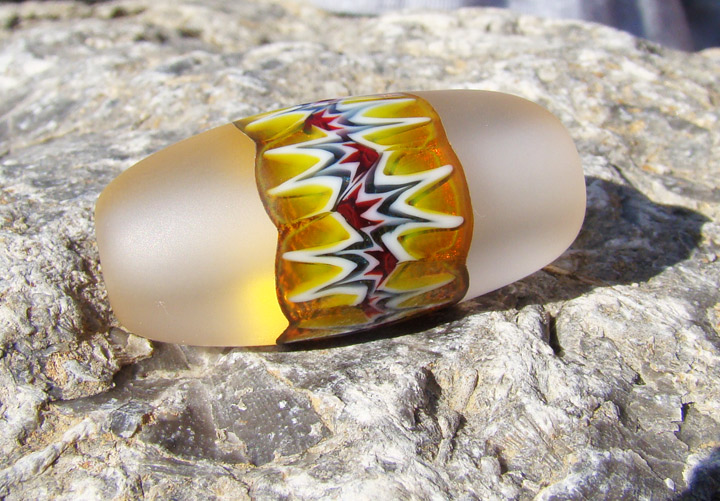 Copyright 2022
All rights reserved by Bead Collector Network and its users
Posted by: beadiste

Post Reply
03/18/2022, 16:34:19
And I thought it was bad when they ditched the cabinet full of Alice's slides (that I paid $500 to get sent down there).
Copyright 2022
All rights reserved by Bead Collector Network and its users
Posted by: frank

Post Reply
03/19/2022, 09:45:15
Realistically a museums interest can be motivated by a large donation of money so as to fund an endowment to provide curation funds in perpetuity but the museum must have some serious interest in beads and that seems unrealistic in the case of non ethnographic beads.
Copyright 2022
All rights reserved by Bead Collector Network and its users
Posted by: AnneLFG

Post Reply
06/15/2022, 20:24:15

Art, great example of another heart breaking realization about Museums and their ability to sell and disperse "gifts". So sorry you had to lose some of your best examples- things intended for the benefit of Bead Lovers, Glass Artists, and related. The Loan Option, with stipulations, is a great choice.

Bead lover, collector since Age 15, semi-retired had wholesale/retail bead, folk art, tribal art store Lost and Found Gallery for 25 yrs. in DT Greensboro, NC



Copyright 2022
All rights reserved by Bead Collector Network and its users

Posted by: stefany

Post Reply
06/17/2022, 08:41:10
this question is on my mind too. there are museums in UK which may have different arrangements but so far i havent had time to catalogue much of my enormous collection which i feel is a necessary pre-requisite before planning any destination for anything.
My collection includes ancient, old, vintage, Organics, found and experimental items, etc, etc. not yet examples of everything... would we have a better chance leaving treasures to our offspring???
maybe divide lots between specialist museums, such as ancient "Egyptian", or "Roman" the local museums near ancient sites, or donate more Jet to Whitby? Coral to southern Italy? or add at least the plant-based organics to a big collection already held at the Royal Botanical Society, Kew gardens?
Copyright 2022
All rights reserved by Bead Collector Network and its users