Posted by: nishedha

Post Reply
01/15/2016, 02:21:37
In the first place for not allowing this thread to be ended with the sad note of my previous contribution, uploaded just seconds before I read yours.
The Artist's Way is a remarkable book, not easy to be commented, sometimes comforting, sometimes infuriating. I am now at chapter 8, which means I am gone beyond the equator of 12 weeks the course lasts. As an example, I will add one more quote to this already quote-rich thread: "Focused on process, our creative life retains a sense of adventure. Focused on product, the same creative life can feel foolish or barren. We inherit the obsession with product and the idea that art produces finished product from our consummer-oriented society. This focus creates a great deal of creative block.(etc)".
I think the above is not foreign to our current thread. Bad/good taste may only apply to the product, not the process -- which is the real thing, after all! Many years ago I saw a documentary film on Picasso ( painter I do not specially like). He was shown in his studio, painting a canvas from start to end. The canvas was somehow translucid, and the painting process was filmed from the back of it, so you could see the work grow as an organic being, follow the process brushstroke after brushstroke. I was absolutely astonished, understanding how great an artist the man was.
Thank you also for your personal feedback. Let me comment briefly on it. I understand the word humility as a synonym for lucidity -- related of course to enlightenment. Far from my intention to uphold such a claim. It may be true that I am a good designer of necklaces for BCN Forum standards, but please realize that it is a Forum for Bead lovers and collectors, not designers! I entered it somehow by stealth, when many years ago Jan asked me to post the image of a recently made necklace (curiosly enough, with some pemarakas strung into it). But after making a broad search -- say "necklaces" -- in the internet, often I have been sobered and (yes, why not confessing it?) humiliated.
Now the Forum has been tremendously significant for me since then, both as a person and as a designer. It has become costumary for me to post here works of mine that I like. One reason is I greatly enjoy to read enthousiastic comments. But also because refraining as I do from signing them, such posts at the Forum are useful as a kind of evidence of "made in nishedha".(Inmediately after one of my "children" does leave home (i.e. workshop) and starts "adult life", I delete all info and photographs related to it, so I do not keep records of products gone. Sometimes I meet them again, on the internet (Google>Images, pinterest...), and this is gratifying enough. By chance I found sometime ago an image of the necklace that facilitated my initiation into the Forum, and I kept it: see it below.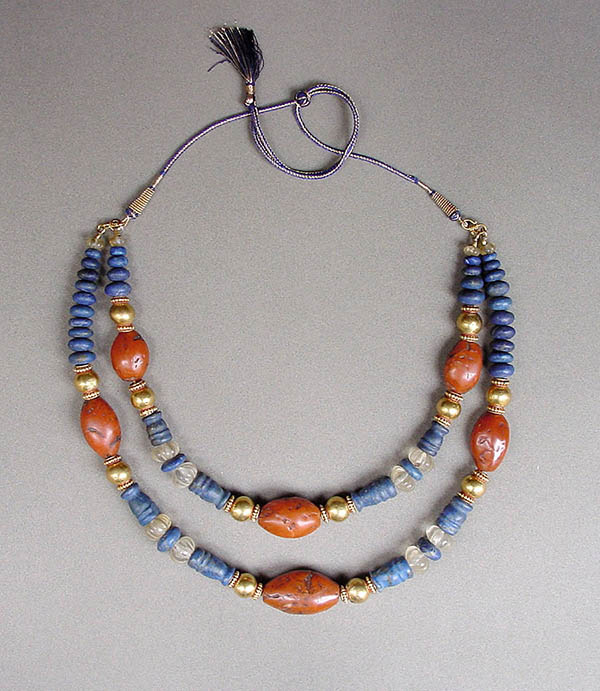 © Copyright 2016 Bead Collector Network and its users