Posted by: karavanserai

Post Reply
11/19/2018, 04:53:59
Good choice!. Thank you Joyce.
I don't know how it is in the US, but Mediterrean coral in Europe fetches high prices especially the older smooth beads without wormholes from the Moroccan and Yemen jewelry. Some ask ridiculous prices for very small beads.
Lately I see more and more the Dutch traditional(from Zeeland,Friesland)coral necklaces on auctions. They often have intricate goldclasps and that does not help the price. Not all but some have typical flattened ends, and larger diameter than they are thick and are referred to as 'cheeses' - since they look like a big Cheese wheel.
I love those beads, but alas not in my collection.
This Lady from West-Friesland has a great specimen.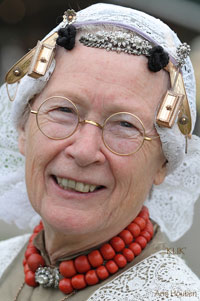 martine
© Copyright 2018
All rights reserved by Bead Collector Network and its users
Followups