Posted by: Rosanna

Post Reply
03/16/2020, 13:58:24
Hi Nishedha,
Hard to tell without examining / testing in person. The amber-colored ones with the darker edges are probably Bakelite. The reddish ones COULD be Bakelite as well. There are some really excellent beads made from other plastics that look a lot like old Bakelite, which is why you need to run at least one test.
Can you get access to the holes & try the reamer / sniff test? You have some beads that I tested when I visited you - that are definitely Bakelite, so you can use them for odor comparison.
The other test you can run is to try to stick a hot pin or needle (heat to red hot) into the bead (use an inside surface). If the pin goes into the surface easily, you have a newer plastic, either acrylic or polystyrene. If the needle goes in a tiny bit and leaves white crumbs in the hole (use magnification) then you have fairly new polyester. If the needle won't go in at all, and leaves a tiny black mark, you have Bakelite. There are other possibilities but I haven't seen this type of large bead in other plastics. But that doesn't mean there aren't some out there.
Good luck!
Copyright 2020
All rights reserved by Bead Collector Network and its users
Posted by: Beadman

Post Reply
03/17/2020, 12:22:27
Dear Nishedha,
I would be surprised if your beads are anything except cast phenolic plastic.
Cast phenolic plastic is not "Bakelite." (For the reasons I have posted dozens of times here and elsewhere.)
The ideas expressed here, attempting to characterize the aroma of phenolic plastic, fail, in only providing associations. A practical suggestion is easy (for many people). In your kitchen find an older pan with a black Bakelite handle. Rub the handle for about a minute and smell your clean hand. Rub the beads and smell you clean hand. They ought to smell identical (giving the smell of carbolic acid)—because Bakelite and cast phenolic plastic are/were made from the same materials (though they are structurally different).
If these aromas are different from one another, you have two different categories of plastics. I will show you some valid advice for hot-pointing—if you can gain access to the beads (seeing that they seem to already be used in constructions). But I would be surprised that this would be necessary.
Jamey
Copyright 2020
All rights reserved by Bead Collector Network and its users
Posted by: Rosanna

Post Reply
03/17/2020, 19:05:17
As I've documented (see BEADS volume 28), Bakelite made cast phenolic resins. There were many competitors making this material by the 1920s, and there is no way to know which company made the resin in any specific bead.
Since Bakelite was the first trade name for phenolic resin, I think it's OK to use Bakelite the way we use a trade names like Kleenex for tissues, or "Xeroxing" for copying. In the vintage and antique jewelry business, the term Bakelite is very widely used for phenolic resin items and everyone knows what the term means.
Another old plastic based on the milk protein casein and formaldehyde is widely referred to as Galalith, which was only one of several trade names. Celluloid is yet another example of a trade name for cellulose nitrate that has passed into generic usage. Lucite (Perspex in the UK) is a term widely used for any acrylic plastic. Using trade names generically is very irritating to the original patent owners but the practice is so widespread that trying to stop it from happening it rather futile.
You may not agree with using Bakelite to indicate generic phenolic resin but it is not true that there was never any Bakelite casting resin.
Copyright 2020
All rights reserved by Bead Collector Network and its users
Posted by: Beadman

Post Reply
03/18/2020, 03:32:01
Yes they did. For about a year, until they sold the rights to the Catalin Company—that thereafter made cast phenolic plastics.
Rosanna, in these ongoing discussions, you seem to not understand that my taking an exception to popular naming practices is based on PLASTICS MANUFACTURE.
Bakelite, as a material, was/is dry-molded from powder, requiring fillers that provide strength and also make the material opaque. And further, Bakelite was essentially an industrial material, that was not only opaque, but routinely black, brown, khaki, or mottled.
Cast phenolic plastics, once they were developed, in formula, were greatly improved over Bakelite—because the material was internally strong, did not require fillers, and was made to be either translucent or opaque at will—and could be given any color(s) for which there were colorants.
The differences between Bakelite and cast phenolic plastics are PROFOUND. And, the time between the development of one and then the other is nearly twenty years. Popular notions suggest that colorful cast phenolic plastice artifacts date from "1907" (which is not true)—because THESE THINGS ARE CALLED "BAKELITE."
I have reservations about a number of propositions included in your article. And these include suggestions that earlier experiments in producing cast phenolic plastics may have yielded beads that would be available in the market today. So you are, essentially, doing the same thing. You are putting-back-in-time an idea that is probably mistaken for the vast percentage of beads. Possibly entirely. My goal, always, is to express facts, and opinions that are reasonable and grounded in reality—and are therefore dependable generalizations.
You and I are going to have to agree to disagree. And anytime you promote an idea that I think probably holds very little water, it is very likely I will come along and say I disagree.
Minds are "changed" when people are willing to listen to reason. But my goal is actually to inform people who have not yet made-up their minds, and who remain open-minded.
If you think the differences between dry-molded phenolic plastics and cast phenolic plastics are unimportant—that is your opinion; and my opinion is different. And it remains among ideas I have promoted for a very long time—and still think hold water.
Finally, in previous dialogues, you have taken the stand that I have said 'everything you say is wrong.' And nothing could be further from the truth. Please do not assert blanket statements about me, that only serve to make me "look bad." At the least, these suggestions are unwarranted, and untrue.
Jamey
Copyright 2020
All rights reserved by Bead Collector Network and its users
Posted by: Rosanna

Post Reply
03/18/2020, 09:36:03
You are trying to maintain the proposition that Bakelite, as a trade name, only applied to the molding compounds that were indeed created for industrial purposes. This is incorrect. I'm not sure why you keep insisting that Bakelite is an "improper" term for cast phenolic resin. It's a useful and widely used term throughout the antique jewelry world as I'm sure you know.
As a trade name, Bakelite was also used for casting resins, and later in the interwar period, for some thermoplastics.
I am still collecting documentation related to early plastic beads. Last October I visited 95-year old Mrs. Welch, whose father, Lawrence Byck, was the first chemist hired by Leo Baekland to work at the NJ laboratory and factory. Byck started a side business making beads and other items from Bakelite CAST resins. I am working on a publication to further document my visit (so I am scooping myself here!). Byck's beads may have been the first Bakelite beads made in the US, but since the Bakelite Co. also had factories in Europe, it's possible Bakelite beads were also being made there.
Due to time restraints I didn't get really good pictures of everything I wanted to, but I submit for your consideration a photo of a paperweight advertising Bakelite cast resin, and some of the beads in Mrs. Welch's collection of artifacts from her father. Note that the "light clear amber" beads have darkened with age. The paperweight was probably light amber originally, as well.
The second set of photos shows some of the pages from the sales brochure for Byck's jewelry business, Embed Art.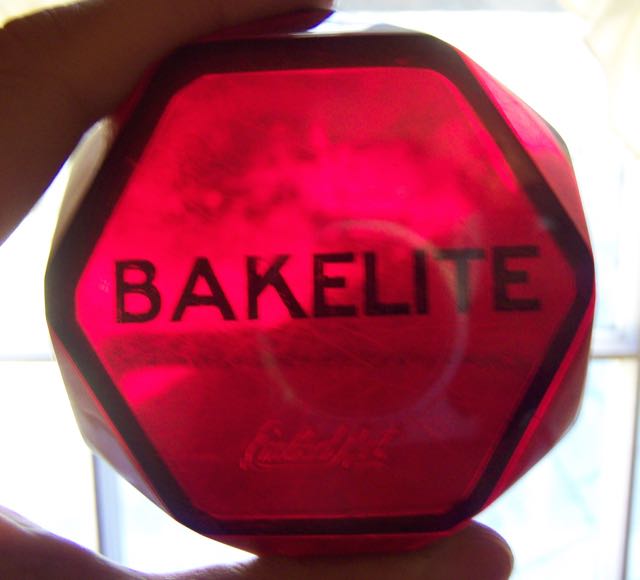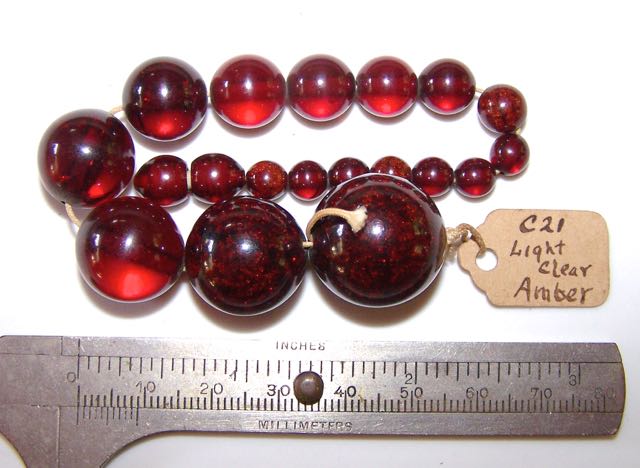 Modified by Rosanna at Wed, Mar 18, 2020, 12:05:34


Copyright 2020
All rights reserved by Bead Collector Network and its users

Posted by: nishedha

Post Reply
03/17/2020, 13:18:54
Very interesting (aka educational) thread!
It may be useful, if sometimes boring, to reread lessons that were before, even more than once, explained in the past.
Let both teachers and we students never forget those words from the I Ching: "Perseverance furthers".
Now I have still to disclose a surprising fact: both images show the same imitation amber beads -- a few years in between, and made with different cameras.
The first necklace(with the beads strung as purchased)was undone years ago, and the Yemeni silver disposed off. I am currently into the second project, and of course I would like to be more knowledgeable regarding the material these (nice) beads are made of.
Copyright 2020
All rights reserved by Bead Collector Network and its users
Posted by: Rosanna

Post Reply
03/17/2020, 15:32:07
If it's not an artifact of the photography, and the beads have turned more red with time, then that is one confirmation of phenolic resin.
If you have some household ammonia, wet a cotton swab with a tiny bit and rub a place that doesn't show. If the swab turns mustard yellow, that is also a good sign for phenolic resin.
I have been using "Bakelite" interchangeably with "phenolic resin" since many more people know this trade name and associate it with old plastic.
Copyright 2020
All rights reserved by Bead Collector Network and its users
Posted by: frank

Post Reply
03/17/2020, 20:29:08
There has been a lot about bakelite here over the years but not much discussion about it's aesthetics. I went to an all bakelite jewelry store in Palm Springs years ago and was enchanted by the translucency and saturated colors of the pieces. Without the negative connotations of bakelite as the source of duplicity or confusion what do you think of it as a medium?
Copyright 2020
All rights reserved by Bead Collector Network and its users
Posted by: Beadman

Post Reply
03/18/2020, 03:52:05
I began acquiring imitation amber beads from Mali in 1972, used them in designs I created, studied them, wrote about them—and continue to acquire them over forty years later.
And, from 1987 to about 1997 I made plastic beads and jewelry from Fimo modeling compound (and similar brands)—for which I am considered a "pioneer" in the medium.
There are a number of things I resent about plastics. Most assuredly the fact that, since about 1920, no manufacturers seem to have considered the possibility of immense polution caused by the thoughtless disposal of plastic waste—that is now wrecking our environment.
But, if we put that aside, plastics are important materials that make many things possible, and improve our daily lives. They also provide a valid art medium. It is the shallow idea of "disposability" that mess up the equation.
My problem with "Bakelite" has been expressed previously. But cast phenolic plastic artifacts are undeniably interesting and even beautiful. I have a small but reasonable collection (if we do not include the copious numbers of fake "amber" beads I also have). What I resent, more than anything else is misrepresentation. I am a Consumer Advocate. And as such, my mission is to inform people of facts, to counter misrepresentation (plastics are not "amber"), and to counter unwarranted explosions in pricing structures—based on those false ideas and wrongly-promoted misrepresentations.
I actually have a nice lecture that I present about plastic beads and jewelry—a large portion of which is dedicated to phenolic artifacts.
Jamey
Copyright 2020
All rights reserved by Bead Collector Network and its users
Posted by: Rosanna

Post Reply
03/20/2020, 14:13:52
Good question, Frank.
There are some unique and interesting pieces made of Bakelite - here is one I purchased from a seller in the UK. It's a slide, about 40 mm wide, with a large 25 x 10 mm opening, that I put on a woven leather cord. Was probably used as a scarf or belt slide.
It's an example of the dark red colored pieces that I believe started out as amber colored, but have turned "cherry red" with age due to the color instability of early phenolic resin formulations.
Most of the beads, bracelets, pins, clips, etc that I've collected were made to imitate amber - and a lot are really beautiful and patinated with age - but the other colors are also fun. In contrast to newer plastics, I find that the Bakelite pieces have a more pleasing appearance and heft to them. I don't know quite how to describe the difference, and I wonder if a lot of the appeal of Bakelite pieces has to do with the high level of craftsmanship used to make them. Also the brown patina that occurs with age tens to make the items more "earthy" (organic?) looking - something impossible to replicate with other plastics.
More modern plastic beads & jewelry are mostly mass-produced and injection molded, although there are exceptions (I'm sure more than I suspect) such as this interesting necklace made from polyester beads that look handmade - but I can't be sure. It was sold as Bakelite...one of those misrepresentations that may or may not have been deliberate.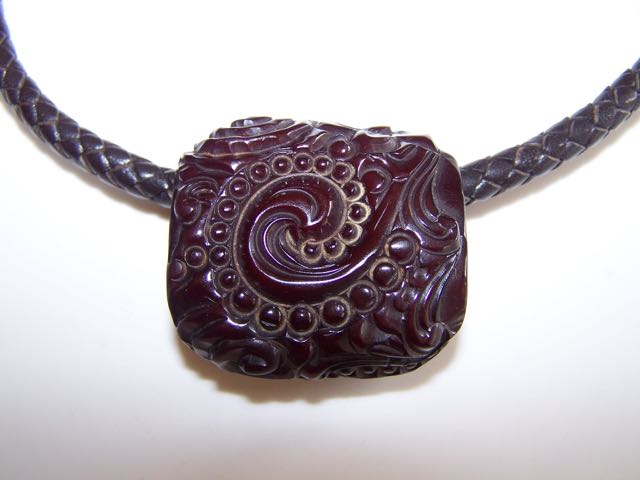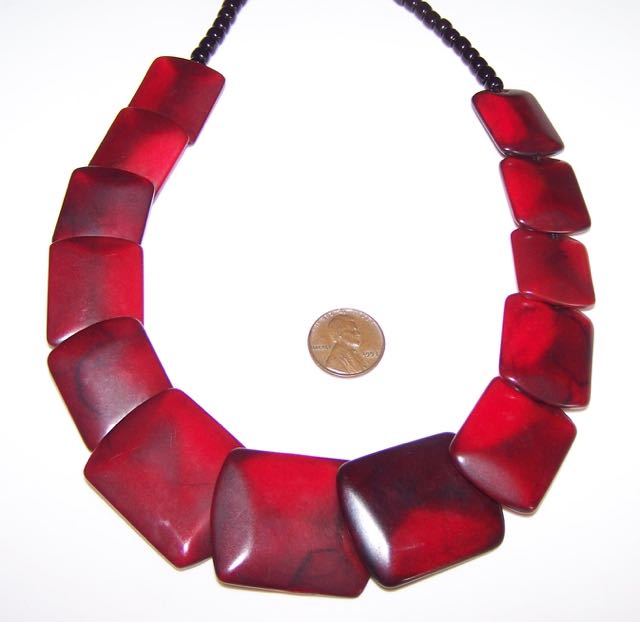 Copyright 2020
All rights reserved by Bead Collector Network and its users
Posted by: nishedha

Post Reply
03/18/2020, 05:44:13
WoW!, I was assuming the difference was due to lighting and cameras... but you blow my mind, now I think they have really changed color!
Copyright 2020
All rights reserved by Bead Collector Network and its users
Posted by: Beadman

Post Reply
03/18/2020, 23:01:07

From 2006:

http://beadcollector.net/cgi-bin/anyboard.cgi?fvp=/openforum/&cmd=iYz&aK=41103&iZz=41103&gV=0&kQz=&aO=1&iWz=0


Related link: http://beadcollector.net/cgi-bin/anyboard.cgi?fvp=/openforum/&cmd=iYz&aK=41103&iZz=41103&gV=0&kQz=&aO=1&iWz=0


Copyright 2020
All rights reserved by Bead Collector Network and its users